Dave and Raina's MoCCA 2005 Photo Journal!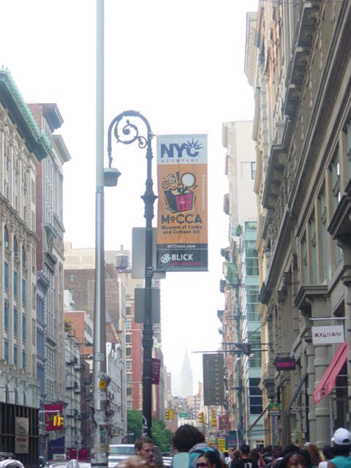 MoCCA! Our hometown con! One of our favorite shows! The streets of SoHo were decked out in MoCCA banners.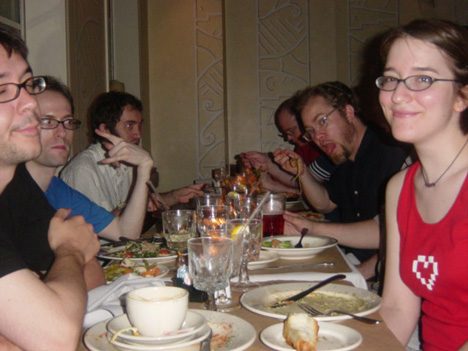 Friday night before the show, we met up with a bunch of our friends for Italian Food at Cucina di Pesce, in the East Village. Rich Stevens gets a little shut-eye while Andy Bell attempts a game of Telephone with the noshing Ryan Sias.
Vera Brosgol finished her pumpkin ravioli with pesto in record time.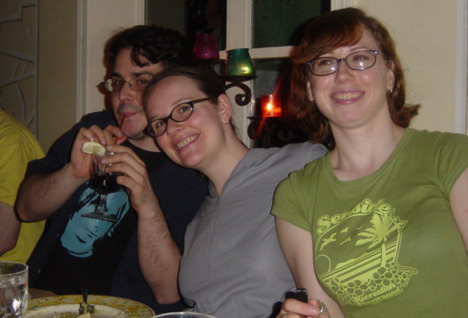 Dave, Raina and Alisa Harris getting cozy.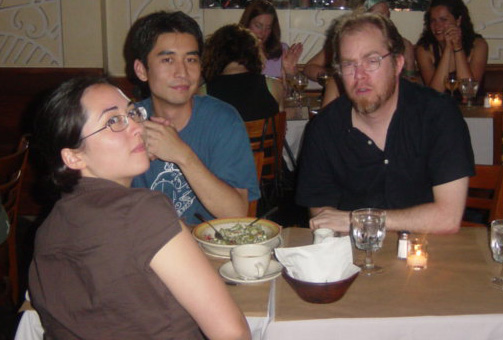 Ryan looks a little concerned about being photographed with Amy Kim Ganter and Kazu Kibuishi...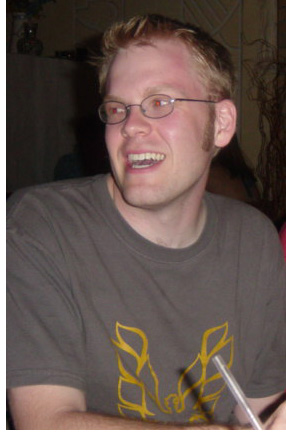 Red-eyed Tyler Page!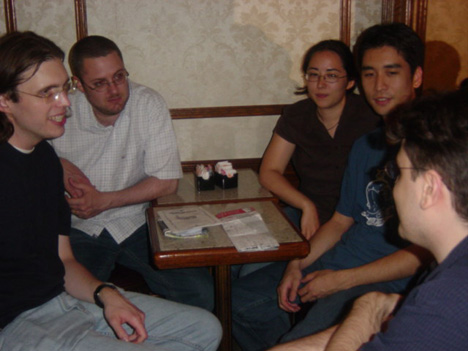 Dave tells a story to Andy Runton, Rob Vendetti, Amy, and Kazu while waiting for pastries at Veniero's.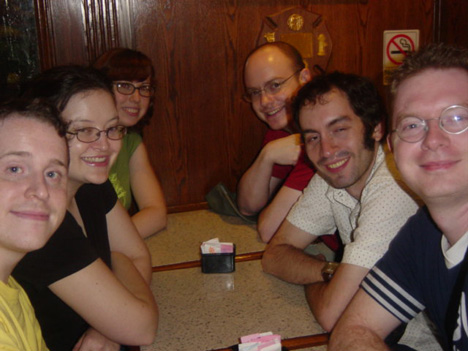 John Green, Marion Vitus, Alisa, Toby Craig, Benjamin Birdie, and Dalton Webb...still waiting for the pastries...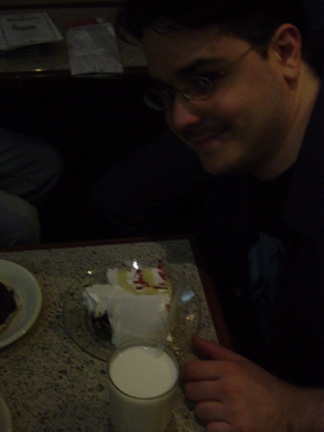 The Pastries! Dave gets friendly with his strawberry shortcake.

Now...on to The Festival!

Saturday was a crazy, crazy day. Hot, muggy, crowded, busy. We were lucky to have a table right underneath one of the few working air conditioners in the Puck Building, and we stayed pretty cool while we watched lots of our friends and fellow exhibitors grow more and more melty as the day went on.




Raina signs copies of her latest issue of Take-Out for a few young fans. That's Casey on the left and Erika on the right. They were great!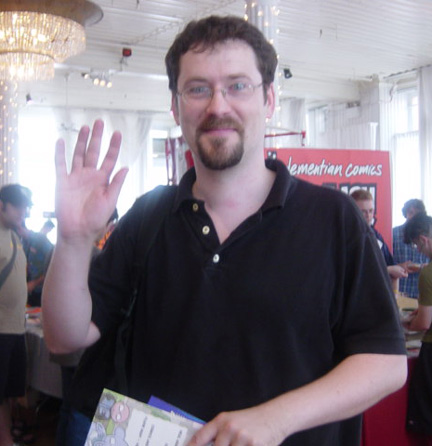 The fantastic Matt Bayne, our Girlamatic buddy, whose inking is just terrifically sweet.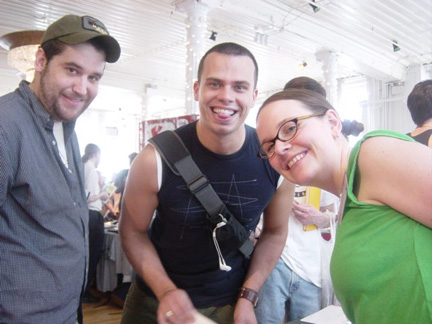 Raina's friends Dan and Adam stopped by! They make movies! This may well have been Dan's first comic convention.

Not a lot of photos taken Saturday, mostly because we were so busy. It was one of the best con days we've ever had.



That evening we attended the Harvey Awards, where Dave was nominated (along with Chris Duffy) for Nickelodeon Magazine's The Comic Book in the category of Best Anthology.

On Sunday, the air conditioning was fixed and the sun filled the Puck Building with glowing light.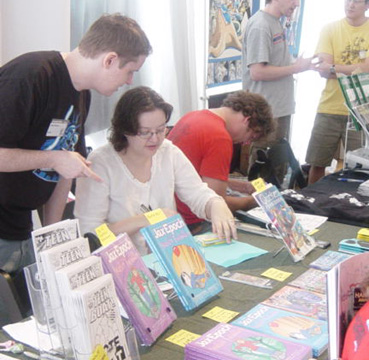 Marion was folding and stapling throughout the weekend to keep up with demand for her "No In Between" comics!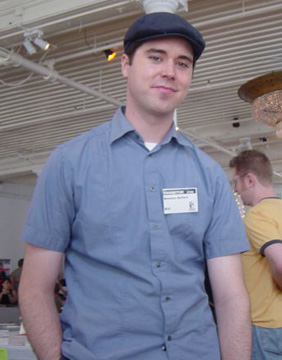 Brendan Burford!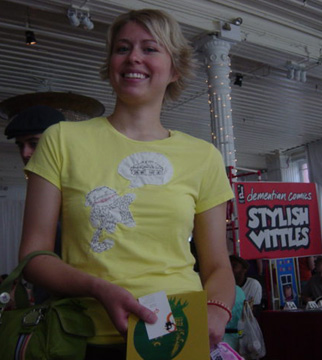 Cori Doerrfeld, who was wearing a t-shirt featuring a monkey thinking about Pie!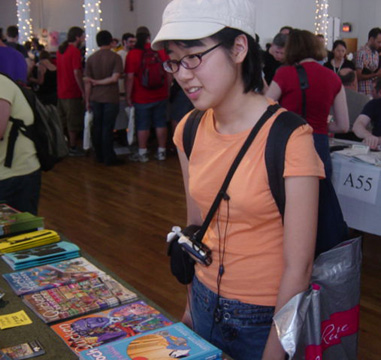 Christine Lee, who braved a post-surgery foot to enjoy the show.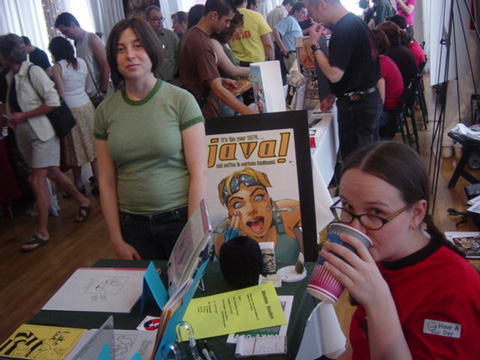 Miss Lasko-Gross stands at attention while Raina enjoys a much-needed cup of tea. The Java poster taunts them from behind.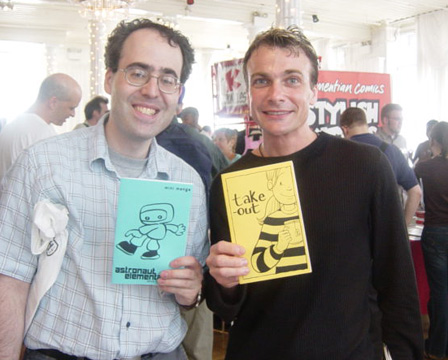 Marc Wilkofsky and John, with copies of Astronaut Elementary and Take-Out.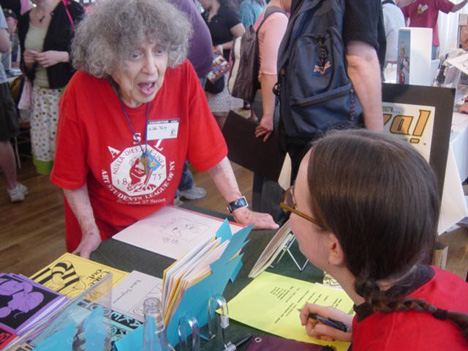 Possibly the best picture ever. The legendary Hilda Terry chats with Raina about comics featuring Baby-sitters.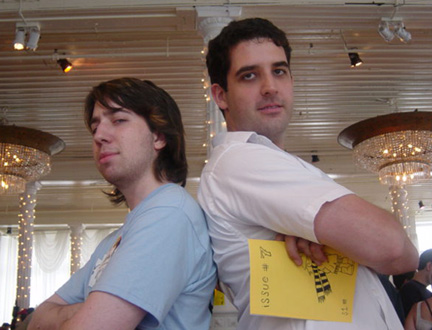 It's Derrick and Derek! Derrick Kennelty-Cohen is one of MoCCA's hardest-working volunteers. He helped knock this Art Fest out of the park, and for this he gets our gratitude. He's pictured here with Derek Mainhart, another former MoCCA volunteer and Art Fest coordinator.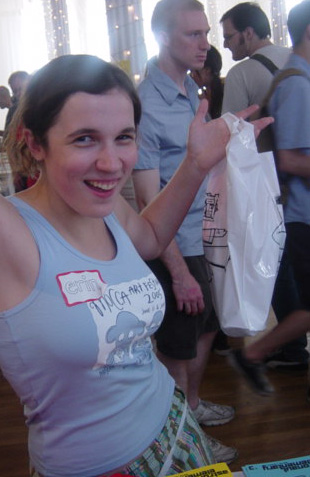 Erin Houlihan rocks the volunteer shirt designed by Sara Varon.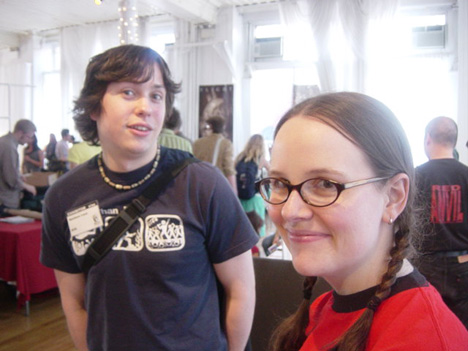 Raina and Matt Loux, who sold out of all his copies of his brand new Oni Press graphic novel, F-Stop!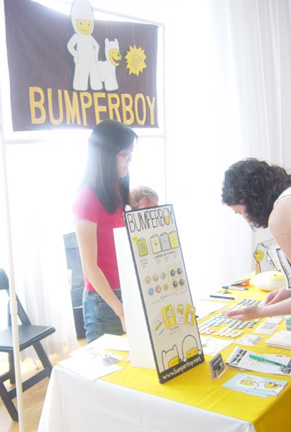 Debbie Huey and her awesome Bumper Boy display!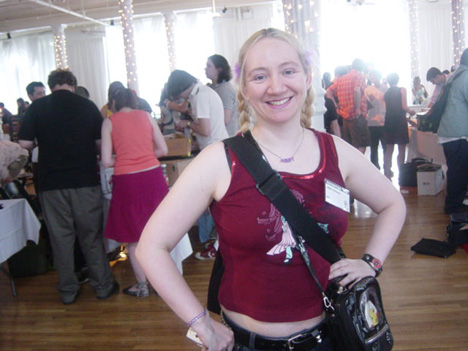 Abby Denson, always the rock star!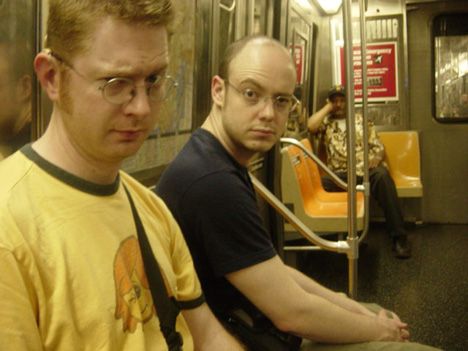 Dalton and Toby, lookin' for trouble on the subway.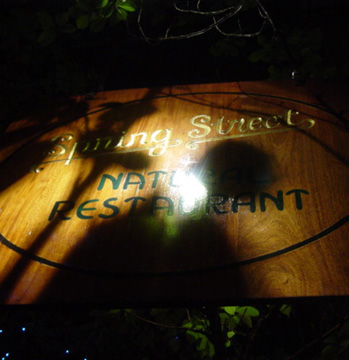 Sunday night a huge group of us went to Spring Street Natural for dinner.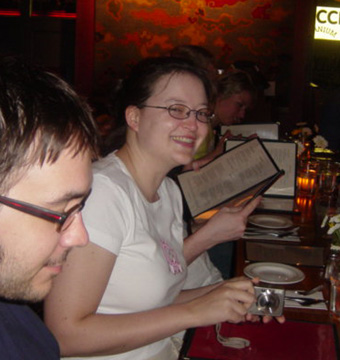 Marion was pleased with this decision.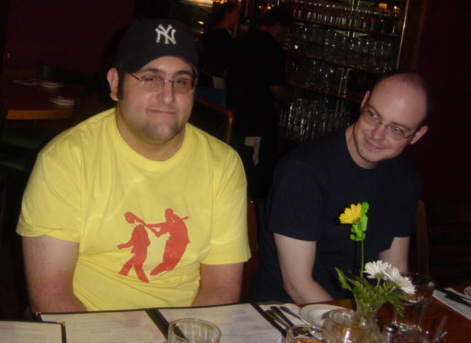 Steve Flack and Toby.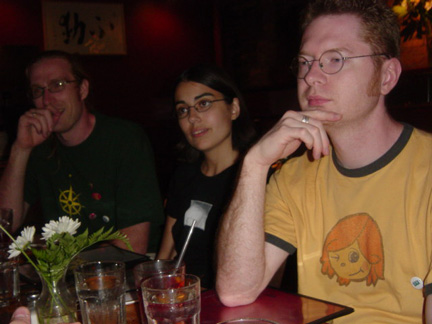 Ryan North has a reputation for being a 'big' eater, but it wasn't until we looked over and saw him taking a handful (not a forkful, a HANDFUL) of Rosemary Mosco's taco salad that it was confirmed. Unfortunately we didn't get a picture of it, but here they are contemplating the finer points with Dalton.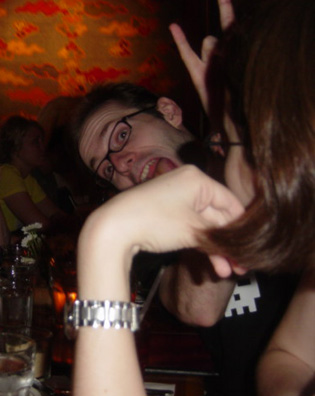 Andy Bell with the telephone thing again!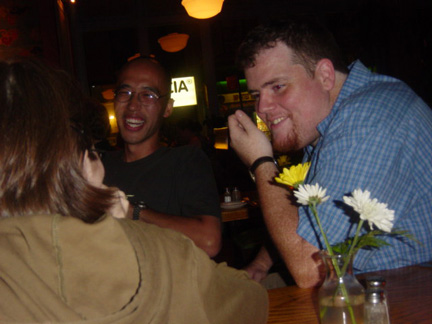 Kean Soo and Chris Butcher always come well-equipped with funny stories.



Tyler and Jeremy!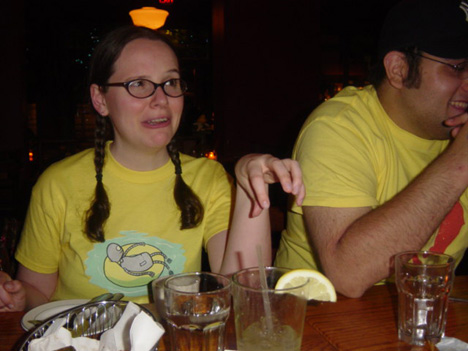 It seems yellow shirts were the way to go.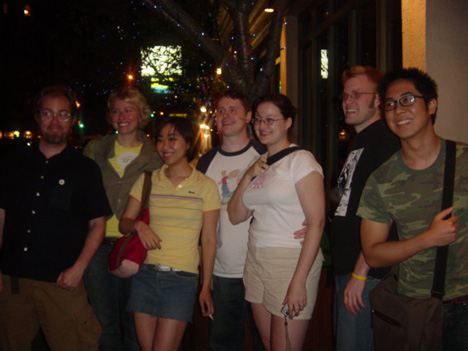 Much photo-taking and standing around were done after dinner out on the street. It may have been hot all weekend, but nighttime was perfectly suited for walking the streets of New York City.

To conclude, we had a great weekend!

Next stop: San Diego Comic-Con!

Post Coments in the Yaytime! Forum





Past con reports:
TCAF 2005

San Diego Comic Con 2004

Small Press Expo 2004