Dave and Raina's Toronto Comic Arts Festival 2005 Photo Journal: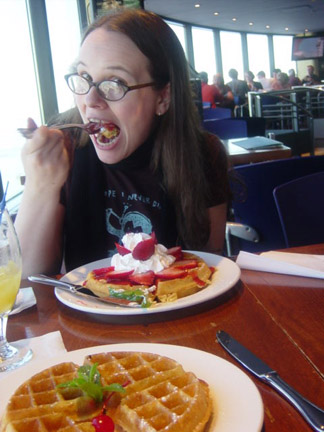 We decided to fly to Toronto a couple of days early, as we wanted to explore the city and enjoy our birthdays Canadian style. Which meant walking around and eating waffles at the top of the CN Tower.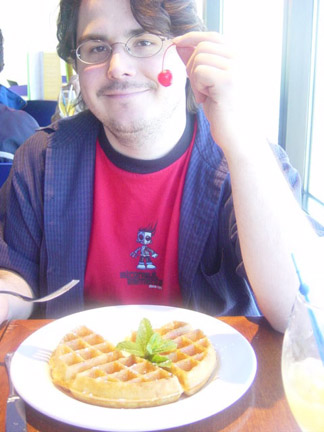 Dave tries not to get syrup on his freshly-printed Astronaut Elementary T-shirt.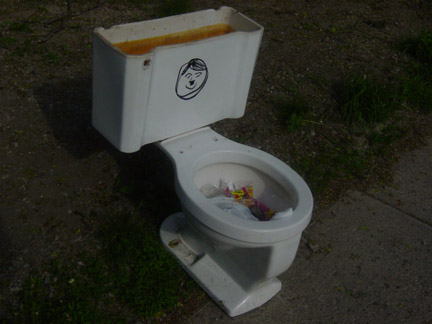 Afterwards, we wandered from neighborhood to neighborhood enjoying some of the sites, like candy-filled Hitler toilets on the sidewalk.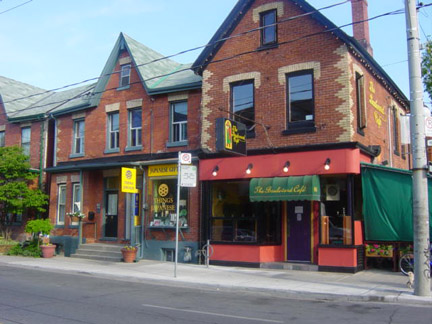 Finally we met up with Jeff Smith (Bone) and some folks from Scholastic Canada (Denise Anderson and Scott Robins) for a delicious dinner at the Boulevard Cafe.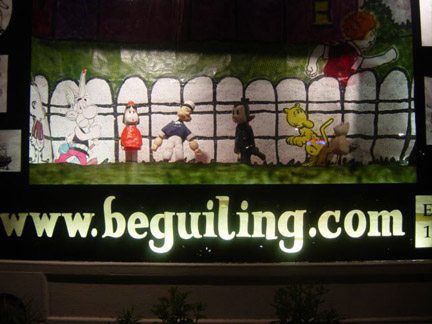 By the time we made it over to The Beguiling on Thursday night, it was already closed. But we got to check out the cool window display.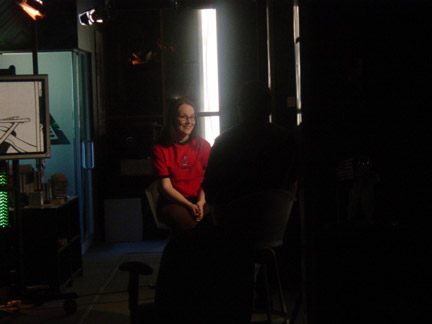 Friday morning, Raina and Jeff Smith both had separate interviews with Mark Askwith, at the Space Station (the Canadian equivalent of the Sci-Fi Channel). Jeff talked about the recent re-release of Bone in full color published by Scholastic's new Graphix line. And Raina discussed her upcoming Baby-sitters Club graphic novel (also for Graphix), as well as how she got started and her thoughts on comics in general.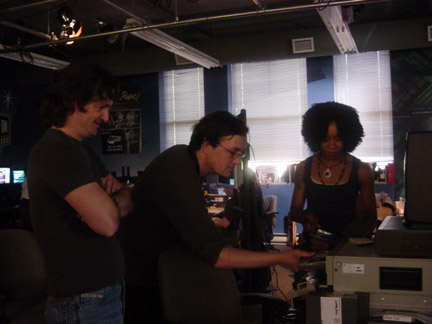 Thanks to some quick editing, the clips of Raina and Jeff were broadcast four hours later on national Canadian television. Canada is awesome!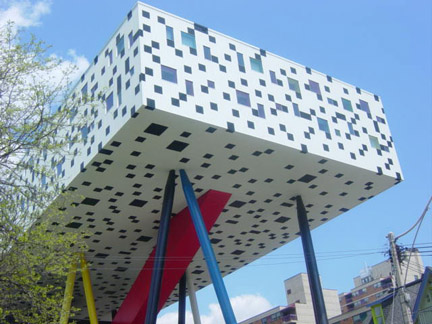 We kicked around at the park underneath OCAD's funky floating building, watching the clouds go by and relaxing (something we rarely do at home).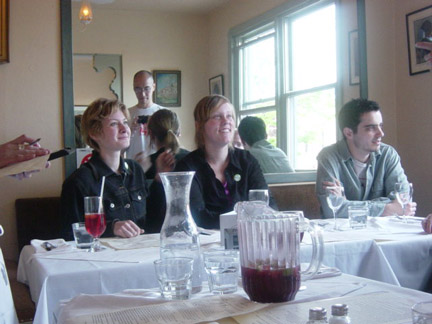 Later we headed over to the Kensington Kitchen for dinner with a large group of friends, organized by Kean Soo (seen here in the mirror), who along with Hope Larson (left), has an awesome Web comic site called The Secret Friend Society. Also pictured are Lucy Knisley and Matt Forsythe.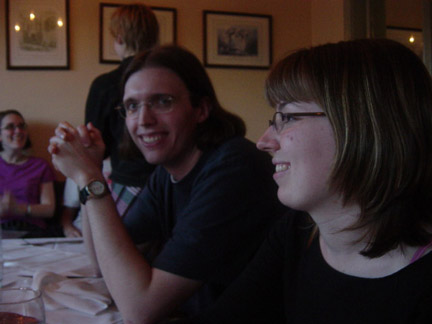 Andy Runton (Owly) and Allene Chomyn!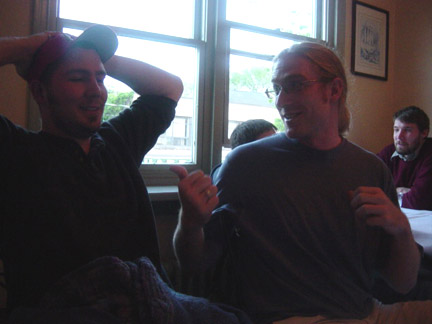 Brothers Victor and Ryan North (Dinosaur Comics)!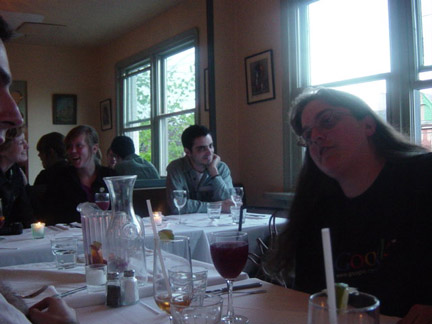 Carla Speed McNeil (Finder)!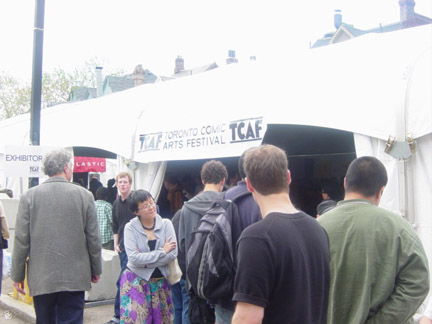 Saturday morning was the start of TCAF! The show was organized into two separate tents.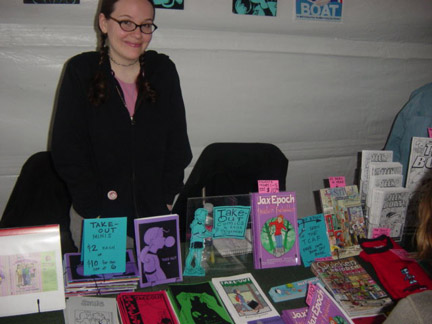 We found our table and set up our display in what was dubbed the "Scholastic Children's Tent." Our table mates were Eric Kim and J. Torres (Love as a Foreign Language). Neighbors included the crew from the Flight Anthology, Owl Magazine, and Darwyn Cooke (who drew one of the event's promo posters).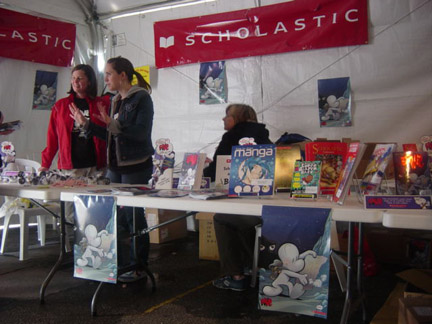 Here's the Scholastic booth where they were selling copies of the new Bone collection and giving away Bone figurines and "Queen Bee" mini-purses by Chynna Clugston!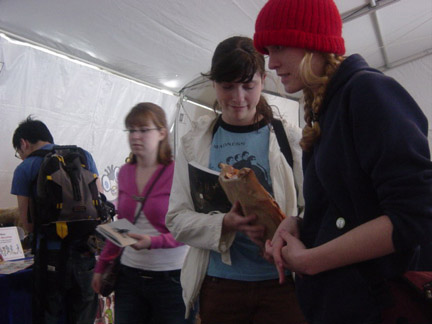 Things were a bit quiet for the first couple of hours in the children's tent, but by noon it started to pick up. Some admitted they didn't realize there were other comic creators in the Scholastic tent!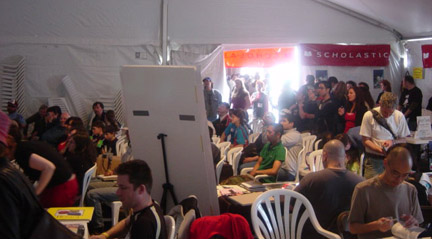 During the course of the day people like Jeff Smith and Darwyn Cooke gave presentations to full crowds.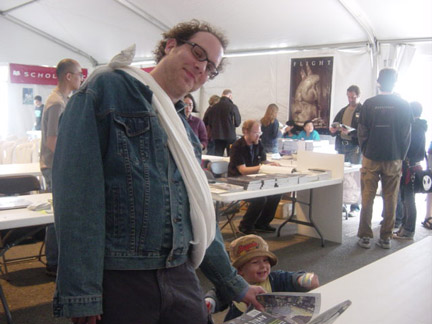 Josh Greenhut (posing here with his son) is an awesome writer who is actually mentioned in the most recent "A Series of Unfortunate Event's" book and has been known to be a co-hort of Lemony Snicket.




After the show ended on Saturday, we strolled on up to the Doug Wright Awards ceremony, at the Victory Café, where we watched Bryan Lee O'Malley receive the Best Emerging Canadian Talent award! Those of us who love Scott Pilgrim's Precious Little Life are quite proud of Mal! After the event, Dave got to meet one of the award judges and presenters, Don McKellar (pictured above), who is the writer/producer/star of one of Dave's favorite TV shows ever, Twitch City.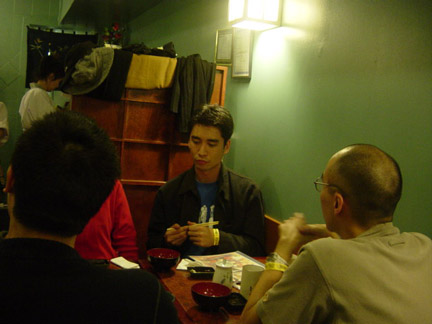 Then we headed with Kazu Kibuishi and a bunch of the Flight crew to an all-you-can-eat sushi place on Bloor Street, where the service was awful but the kabocha tempura was awesome.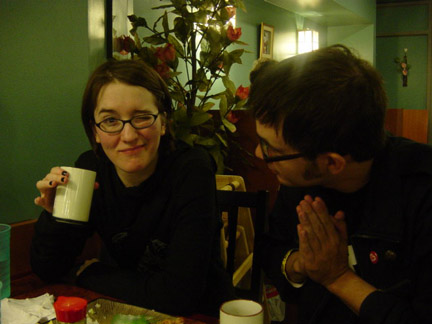 Vera Brosgol (Pants Press) enjoys some long-awaited Green Tea while R.Stevens (Diesel Sweeties) prays for her safety.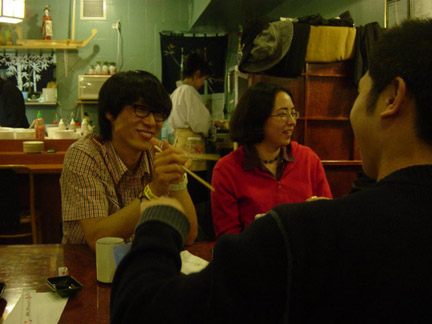 Derek Kirk Kim (Same Difference) and Amy Kim Ganter (Reman Anthology).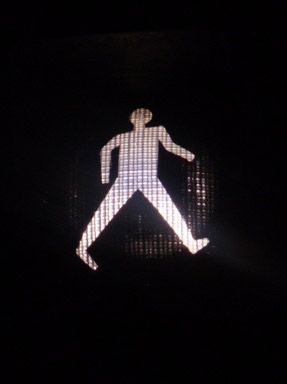 The walk signals in Toronto alone are worth visiting the city for. The walk-dude looks like he's doing a crazy dance!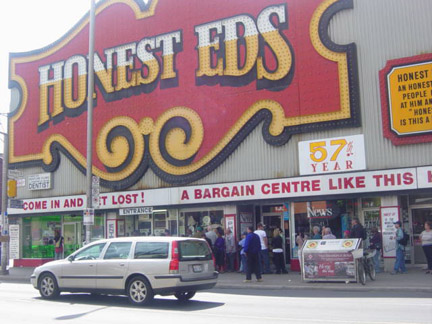 A lot of the TCAF show was actually held in the parking lot behind a giant discount store called Honest Eds. Sadly, the line of customers waiting for the store to open was far longer than the one for the comics show.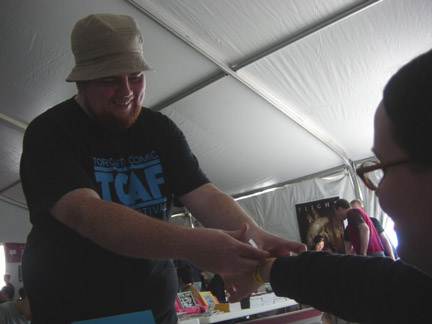 Chris Butcher, one of the show's co-organizers, gives Raina a new arm bracelet so she won't get kicked out.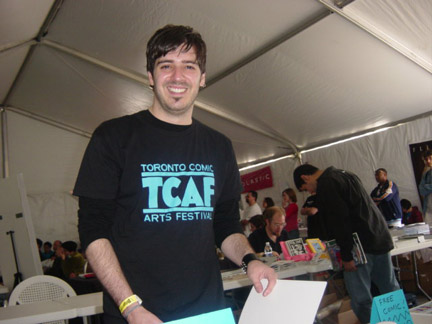 Scott Robins, of Scholastic Canada (and blog superstar).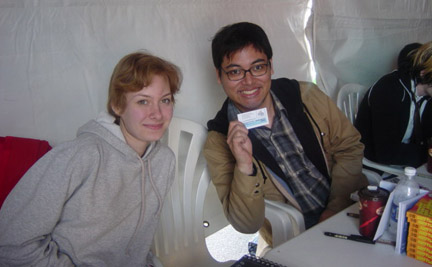 Hope Larson and Bryan Lee O'Malley! Links above!




Corey Lewis, the creator of the new Oni Press book Sharknife!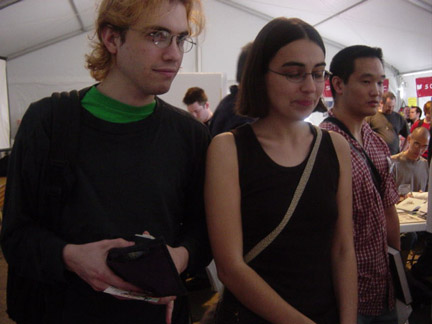 Sunday was the only day it rained out of the six days we were in town, even though the weather report had said it would rain the entire time. Luckily this drew folks further into the tents and we had a fun day, selling books and talking with friends like Miguel Sternberg and Rosemary Mosco (Bird and Moon).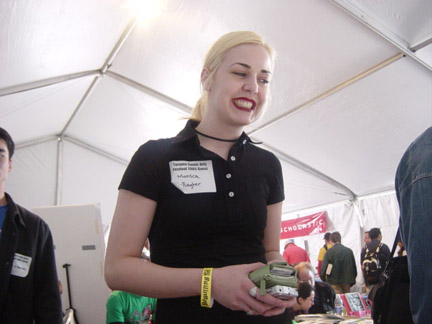 Monica Gallagher!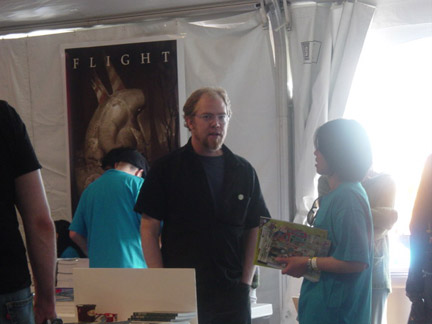 Ryan Sias (Silent Kimbly) at the Flight comics table.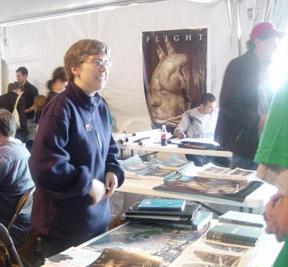 Johane Matte (Horus) at the Flight comics table.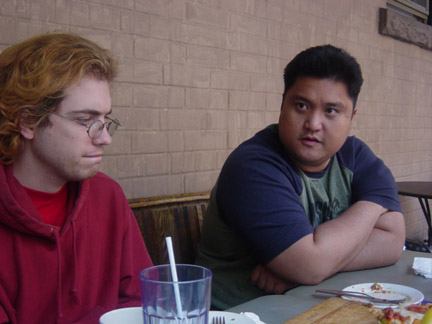 For dinner, we joined Eric, J, J's fiancé Young, and Miguel for food at the Bedford Academy.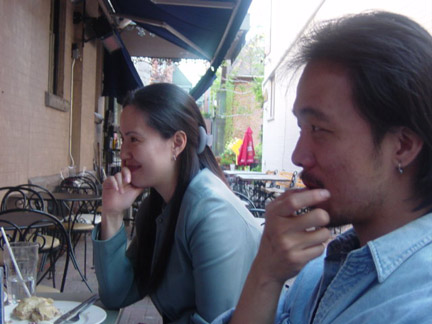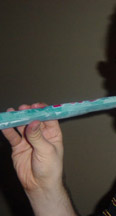 After dinner we stopped by the "closing party," where we enjoyed the Freezy Pops that were passed out to everyone, perfect for lightsaber battles.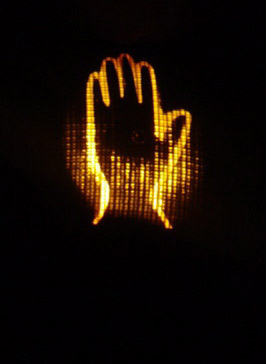 Finally, it was time to say goodbye to our friends and neighbors to the north.

Post Coments in the Yaytime! Forum





Past con reports:
San Diego Comic Con 2004

Small Press Expo 2004